About Us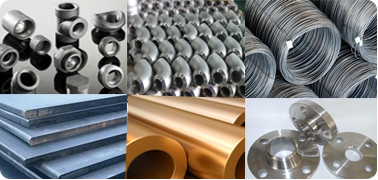 Since our inception in 1977, we are one of the premier trader, manufacturer and exporter of stainless steel products . Our wide assortment of products stainless steel pipe and forged fittings, Pipe Fittings, Pipes (ERW & SMLS), Tubes (ERW & SMLS), Stainless Steel Sheets/ Plates / Coils, Industrial Valves, Industrial Rounds and Flanges. With our long years of experience in the domain, we are able to deliver qualitative and durable products to our customers in the public as well as in the private sectors. We also have reputation among our customers due to our innovative range.
Products We Offer
Our range are durable, reliable and stain free and are available with special specifications. We offer stainless steel pipes and S.S.Fittings , Pipe Fittings,Pipes (ERW & SMLS),S.S. Tubes (ERW & SMLS),Stainless Steel Sheets/ Plates / Coils, Industrial Valves,S.S. Plates, Industrial Rounds and Flanges. We supply the material according to the requirement of the customer and supply the best quality available in the market at reasonable and competitive rates.
Application Areas:-
Our products are used widely in the following areas.
Chemical industry
Sugar mills
Fertilizers
Thermal power station
Nuclear power station
Brewery
Construction/ Architecture
Infrastructure:-
Our well equipped infrastructure enable us to manufacture a wide assortment of stainless steel products. For this, we have installed many modern machines and advance technology in our infrastructure. Furthermore, we upgrade our products with the help of our machines and technology.
Quality Assurance:-
Our quality control unit look after the quality checking processes of our products. This unit checks the raw materials and the finish products. For this, all our stages of production process undergoes quality checking. We also have laboratory to conduct some tests of our products to provide our customers with flawless range. These tests are as follows-
Chemical analysis
Hydro-testing
Mechanical testing
Positive material identification (PMI)
Flattening & bend tests
X-Ray, magnetic particle (MP) and Photomicrographs
Liquid Penetrant (LP) Metallography
Impact testing
Hardness testing
Warehousing and packaging
We have a warehouse to store the raw materials and finish products. We also have a packaging unit for the final products. Furthermore, we use materials such as boxes, shrink wraps etc to pack our range. Our products are very carefully packed so that it can be delivered to far off places without any damage.
Why Us ?
Some of the factors for which we are preferred by our customers are-
Qualitative Products
Innovative Range
Timely Delivery
Competitive Price
Quality Policy
Quality is our prime concern. We are able to maintain high quality standards through our committed personnel and sound infrastructure. We ensure that finest quality material is used for our products. For ensure the quality of each material, we are providing Materials Test Certificate along with supply. Our team of experts maintain a vigil on the quality of the products. Every single piece is attached with test certificates and reports. We are continually improving our quality to serve our clients better.
At Choudhary Metals ,our employees adhere to and contribute to the efficiency of our quality system in every aspect of our business. Our commitment guarantees to provide our clients with uncompromising quality and service. This is achieved through a team approach where all the members are aware of the company objectives and work within their own discipline to make an effective contribution.

To verify that the supply made to our clients exact specifications, our quality control team combines technical expertise, knowledge of industrial standards and the latest inspection tools and machines to meet all requirements. Particular attention is paid to high quality, tolerance and traceability.

Our quality assurance program maintains the highest level of quality and actively contributes towards establishing and achieving the corporate objectives. Quality people, quality engineering and quality products. These are the key to Choudhary Metals continued growth. Our commitment guarantees to provide the customer with uncompromising quality, responsive service, competitive pricing and on time delivery. This is achieved through a team approach where all the members are aware of the company objectives and work within their own disciple to make an effective contribution. The quality assurance system is guided by principles that support our unique working culture which incorporates respect, self management, open communication and creativity. These principles are:
We strive to be the best in our industry.
We care about our customers, our suppliers and partners.
We do our absolute best to honor our commitments.
We strive to always act with integrity and fairness.
Third Party Inspection
| | | |
| --- | --- | --- |
| Lloyd's Register | : | Lloyd's Register |
| DET Norske Veritas | : | DNV |
| Fact Engineering And Design Organisation | : | FEDO |
| Projects & Developments India Limited | : | PDIL |
| Baxcounsel Inspection Bureau Pvt. Ltd. | : | Baxcounsel |
| Bureau Veritas Industrial Services (India) Pvt. Ltd. | : | BVIS |
| Industrial Consultancy And Inspection Services | : | ICIS |
| Metallurgical & Engineering Consultants (India) Ltd. | : | MECON |
| TUV India Pvt. Ltd. | : | TUV Nord |
| TUV SUD South Asia Pvt. Ltd | : | TUV SUD |
| Engineers India Limited | : | EIL |
| UHDE India Limited | : | UHDE |
| Pipecon Consultants (India) Pvt. Ltd. | : | PIPECON |
| Indian Boiler Regulations | : | IBR |